Kick start your morning with a bowl of goodness by following one of these delicious breakfast bowl recipes filled with amazing nutrients to fill you with energy!
Avocado Breakfast Bowl
Ingredients 
1/2 cup water
1/4 cup red quinoa
1 1/2 teaspoons olive oil
2 eggs
1 pinch salt and pepper
1 avocado – diced
2 tablespoons crumbled feta cheese
Method 
Stir water and quinoa together in a rice cooker; cook until quinoa is tender, about 15 minutes.
Heat olive oil in a skillet over medium heat and cook eggs to desired doneness; season with seasoned salt and pepper.
Combine quinoa and eggs in a bowl; top with avocado and feta cheese.
Source: http://allrecipes.com/recipe/244389/avocado-breakfast-bowl/?internalSource=streams&referringId=17842&referringContentType=recipe%20hub&clickId=st_trending_s
Creamy yogurt porridge with pear, walnut and cinnamon topping 
Ingredients
3 tbsp porridge oats (25 grams)
150 grams 0% fat probiotic plain yogurt
1 ripe pear – sliced
4 broken walnut halves
2 pinches of cinnamon
Method
For the porridge: Tip 200ml water into a small non-stick pan and stir in porridge oats. Cook over a low heat until bubbling and thickened. (To make in a microwave, use a deep container to prevent spillage as the mixture will rise up as it cooks, and cook for 3 mins on High.) Stir in yogurt – or swirl in half and top with the rest.
For the topping: Add pear and walnut halves to the finished porridge, then sprinkle on cinnamon.
Source: https://www.bbcgoodfood.com/recipes/creamy-yogurt-porridge-pear-walnut-cinnamon-topping
Bright Berry Acai Smoothie Bowl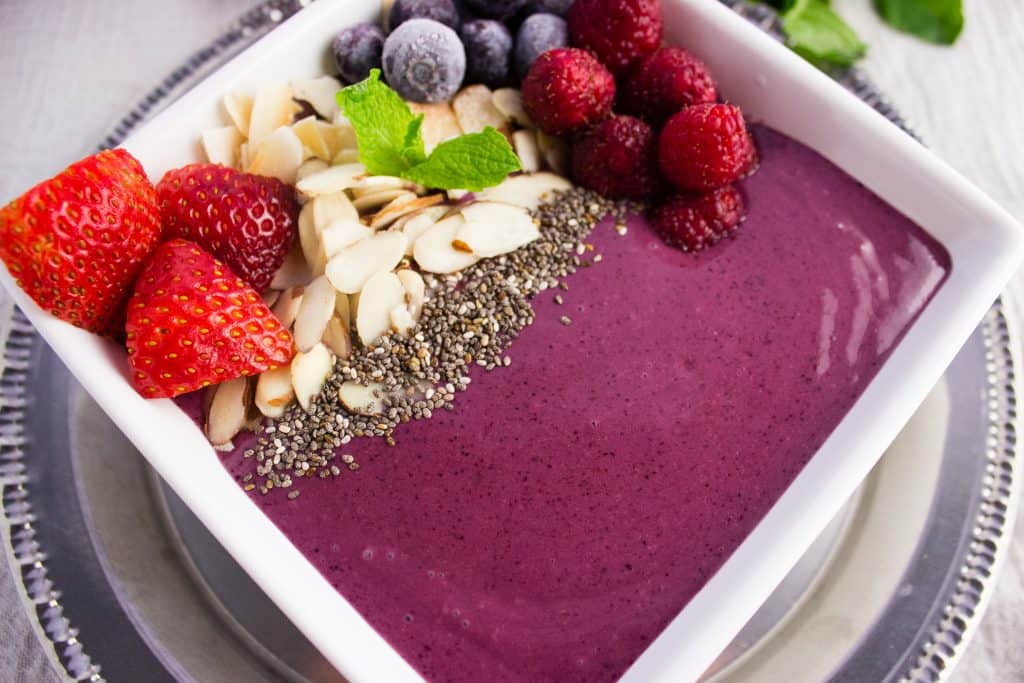 Ingredients 
1 cup almond milk
1 large banana, peeled
1 ½ cup frozen mixed berries
½ cup plain Greek yogurt
1 Tablespoon honey
1 frozen packet acai berry puree, broken into pieces
Toppings
½ cup fresh berries
1 Tablespoon chia seeds
2 Tablespoons coconut
2 Tablespoons sliced almonds
Sprig of mint
Method 
Combine all smoothie bowl ingredients in a blender and blend until smooth with no chunks remaining.
Pour into a bowl and add the toppings.
Source: https://www.simplylakita.com/bright-berry-acai-smoothie-bowl/